WILLIAM W. BODINE HIGH SCHOOL FOR INTERNATIONAL AFFAIRS
At a Glance
Mission & Approach to Learning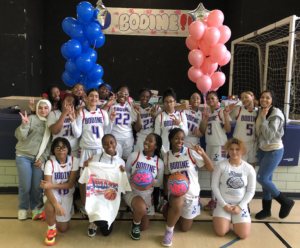 The mission of Bodine High School is to provide our students with a comprehensive college preparatory education that enables young people to envision themselves as informed citizens and caring leaders for our nation and the world. In partnership with the World Affairs Council, Bodine promotes participation in student seminars, diplomatic and governmental simulations, student exchanges, travel abroad and World Affairs Club speakers' events. The rigorous curriculum is delivered by a faculty dedicated to the cultivation of the potential of each student, and the student body practices the motto, "harmony in diversity." Bodine fosters disciplined, ethical thinking, and the capacity to entertain multiple world views.
Points of Pride
Recognition in U.S. News & World Report's Best High Schools 2020, 2021, and 2022
Annual Spring Trip Abroad (China 2017, Italy 2018, Costa Rica 2019, Belize 2022).
Legislative, Executive and Diplomatic tour of Washington, DC.
Icheon, South Korea Sister Cities Student Exchange
Three National Board Certified Teachers on Staff
98% Graduation Rate and 99% college acceptance rate
17 PIAA Interscholastic sports teams
18 Extra-curricular academic teams and cultural clubs
100-hour minimum service requirement for all student
Courses & Program Highlights
International Baccalaureate: IB Literature 1, IB Literature 2, IB History I, IB History 2, IB Math AA 1, IB Math AA 2, IB Biology 1, IB Biology 2, IB French 1, IB French 2, IB Portuguese 1, IB Portuguese 2, IB Spanish 1, IB Spanish 2, IB Business Management 1, IB Business Management 2, IB Visual Arts.
Advanced Placement Courses: Calculus A-B, English Literature and Composition, Environmental Science, Physics, and US History
Dual Enrollment: Dual enrollment course with Harrisburg University beginning in the 2020-2021 school year— BTEC 105, The Art of Genes and Fusion.
Extracurricular Activities
Ambassador (Yearbook)
Anime Club
Asian Students Association
Black Student Union
Chess Club
Debate Team
Gardening Club
Gender and Sexuality Alliance
Hispanic-Latino Culture Club
Inner Strength (Mindfulness Program)
Media Club
Mock Trial
Muslim Students Association
National Honor Society
Robotics Team
Student Government Association
World Affairs Club
Youth Volunteer Corps Affiliate
Sports Teams
Badminton—Boys and Girls
Baseball
Basketball—Boys and Girls
Cheerleading
Cross Country—Co-ed
Football (Kensington High School)
Golf (Constitution High School)
Soccer—Boys and Girls
Softball
Tennis—Boys and Girls
Track & Field—Co-ed
Volleyball—Boys and Girl
Partnerships
Code2College
Inner Strength (Mindfulness Program)
Knowledge@Wharton
Philadelphia Futures Sponsor-A-Scholar
Summer Search
The Heights
Villanova VESTED and VIEW
We Will All Rise
WHYY Flash Lab Media Program
Women of Tomorrow
World Affairs Council of Philadelphia
Youth Volunteer Corps
Admission Criteria
Grades: As and Bs with one C
Attendance: 90%
Standardized Test: 50th Percentile in ELA and
50th Percentile in Math